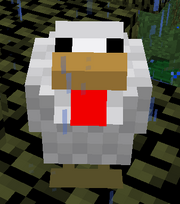 "Chickens" Are hostile variants of your average fowl encountered in Abyssalcraft.
These chickens are hostile, going after the player on sight.
They emit low-pitched screams upon being attacked.
Fire-proof.
Cannot be bred.
Hatches into another form on "death." See Demon Chicken for further details.
Unlike the friendly fowl, these chickens are encountered rarely during the night in certain biomes at a light level of 7 or less.
HP: 10
Attack Damage: 2
Height: 1 block.
View distance: 16 blocks.
Movement Speed: Slow (player can outspeed by walking.)
Immunities: Fire.
Community content is available under
CC-BY-SA
unless otherwise noted.