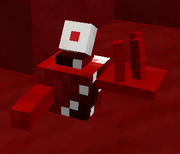 The Dread Spawn is a mutated bundle of flesh that appears in The Dreadlands.
Dread Spawn
Location
The Dreadlands
Health
20
Damage
6
Height
0.6
Viewing distance
32
Movement speed
0.3
NBT Tags
none
The Dread Spawn drop 1 - 3 Dread Fragments on death.
Dread Spawn Spawn in all biomes within the Dreadlands.
They infect the player with 5 seconds of Dread Plague upon inflicting damage.
5 of them can conjure up a Greater Dread Spawn, which boasts 100 HP.
a total of 25 are needed to let it mature all the way into a Lesser Dreadbeast.
They are immune to the Dread Plague, acting as Carriers to the infection.
Due to their Fire Immunity, they can swim in Lava.
This mob has had it's model changed twice. Shinoow had the idea of making it have 3 different models that it switched between when spawning, however, after failing with it, he decide to use the second model as the only model for it.
one of the models for this mob may have lead to the creation of Spawn of Cha'garoth 
Community content is available under
CC-BY-SA
unless otherwise noted.