The Dreadium Samurai Armor is a tier IV armor set added in AbyssalCraft.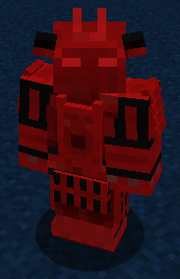 Dreadium Samurai Armor can be crafted using:
The Dreadium Samurai Armor provides the following potion effects:
Helmet: Night Vision I
Chestplate: Resistance I, Strength I
Leggings: Fire Resistance II
Boots: Speed II
This is the first armor set to have a custom model in AbyssalCraft.
Community content is available under
CC-BY-SA
unless otherwise noted.