The Fist of Cha'garoth is a Semi-Elite mob found Within The Dreadlands .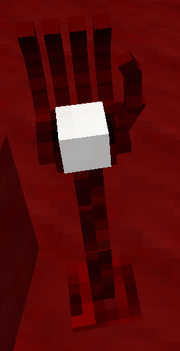 Fist of Cha'garoth
Location
The Dreadlands
Health
50
Damage
7.5
Height
1.8
Viewing distance
32
Movement speed
0.23
NBT Tags
none
Drops
[
]
The Fist of Cha'garoth drops 1 - 3 Dread Fragments on death. (In Some Versions of Abyssalcraft, it drops nothing, except granting the player 5 EXP upon killing it.)
Behaviour
[
]
The Classification of Semi-Elite mobs involve having at least 50, but less than 100 health and deal at least 6 points of damage.
Unlike other Dread-Infested mobs, A Fist of Cha'garoth does NOT infect the player with Dread Plague.
Fists of Cha'garoth are immune to Fire, and are able to swim in Lava.
Fists of Cha'garoth are hostile to the player, and will attack on sight.
Despite sharing the same footstep sounds as the Spider, it is incapable of climbing walls, fences, etc.
Fists of Cha'garoth spawn anywhere within the Dreadlands.
Trivia
[
]
The Fist of Cha'garoth is the first semi-elite mob in AbyssalCraft.