Staff of The Gatekeeper is a tool added by Abyssalcraft.

Crafting
[
]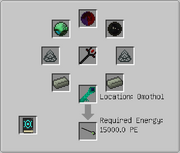 You will need 1 x Abyssal Wasteland Essence, 1 x Dreadlands Essence, 1 x Omothol Essence, 3 x Eldritch Scales, 2 x Ethaxium Ingots, 1 x Omothol Staff of Rending and you will need to do it in Omothol. You will also need the Abyssalnomicon loaded with at lest 15000.0 PE.
Usage
[
]
The Staff of the Gatekeeper can be charged in the exact same way as the Staff of Rending, which is shown here.
The player can toggle between Gateway Key and Rending modes by pressing the Change Staff of The Gatekeeper Mode Key, which is the M key by default.
It collects 5 units of the respectively upon holding down Right-Click and having the crosshair on a compatible monster while inflicting 5 points of damage.
It has a melee attack stat of 1 damage.
The Staff is fully functional, even while in the player's Off-Hand.
Enchantibility
[
]
Sapping - Increases damage of rending monsters by 1 (Max 10 with Sapping X).
Multi-Rend - Multiple monsters can be rended at the same time.
Curse of Vanishing - Despite having no durability bar, this curse will instantly break the staff if the player dies while having it in their inventory.
List of Compatible Monsters
[
]
Shadow Energy
[
]
Abyssal Wasteland
[
]
Dreadlands
[
]
Omothol
[
]
Remnant (All variants)
Omothol Ghoul
Screenshots
[
]